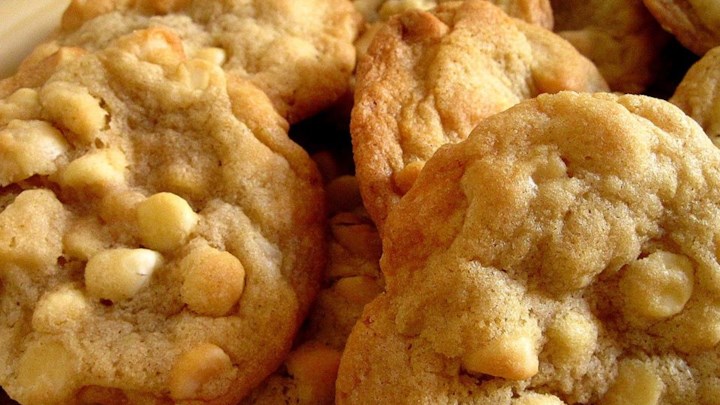 WHITE CHOCOLATE MACADAMIA COOKIES

Max and Erma's Restaurant Copycat Recipe

1 cup unsalted butter, softened

1 3/4 cups turbinado sugar

2 teaspoons vanilla

1/2 teaspoon salt

2 eggs

2 1/2 cups all-purpose flour

1/2 tablespoon cornstarch

1 teaspoon baking soda

12 ounces white chocolate chunks (

chips will do, but chunks are better for texture and taste

)

1/2 cup macadamia nuts , chopped coarsely

1/2 cup macadamia nuts, whole

Preheat oven to 375 degrees. Cream the butter, sugar, vanilla, and salt. Add the eggs, beat until fluffy.

Gradually add the dry ingredients. Stir in the white chocolate and macadamias. Cover with plastic wrap and refrigerate the dough for at least an hour.

Roll into balls and place on silpat or greased cookie sheet/foil. Bake 8 to 10 minutes (

adjust as necessary based on actual size of your cookies

). Let cool for a couple minutes, then remove to a cooling rack to finish cooling. Makes about 3 dozen.